Power
James "Ghost" St. Patrick has it all: a beautiful wife, a gorgeous Manhattan penthouse, and the hottest, up-and-coming new nightclub in New York. His club, Truth, caters to the elite: the famous and infamous boldface names that run the city that never sleeps. As its success grows, so do Ghost's plans to build an empire. However, Truth hides an ugly reality. It's a front for Ghost's criminal underworld; a lucrative drug network, serving only the wealthy and powerful. As Ghost is seduced by the prospect of a legitimate life, everything precious to him becomes unknowingly threatened. Once you're in, can you ever get out?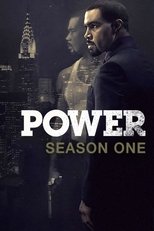 Season 1
8 Episodes
Air Date: 2014-06-07
Season 2
10 Episodes
Air Date: 2015-06-06
Season two picks up right where it left off: James "Ghost" St. Patrick doubling down on his drug business to save his nightclub and dream of a legitimate future. Ghost's work troubles pale in comparison to juggling his relationship with his wife, Tasha, and his first love, Angela, who's also an Assistant US Attorney investigating his drug organization. Ghost is set further back from his dream by his business partner, Tommy, who loves the drug game, and his former mentor, Kanan, fresh out of jail and looking for revenge. Season two has Ghost in a race against himself: Can he get out of the drug game alive before Angela discovers who he is?
Season 3
10 Episodes
Air Date: 2016-07-17
Will James St. Patrick's dream of leaving the drug game and finding love with the woman sworn to bring him to justice end before it begins with the specter of "Ghost" coming back to haunt him? Be careful what you wish for.
Season 4
10 Episodes
Air Date: 2017-06-25
Ghost can't outrun his past choices and mounting enemies this season, which threatens his freedom and his family's safety at every turn.
Season 5
1 Episodes
Air Date: 2018-07-01